Gift Ideas
The Perfect Gift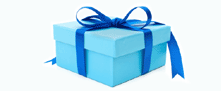 A piece of jewelry is the perfect gift.
Why? There are many reasons - for one, jewelry is very customizable. It can be particular to someone's personality, color preferences, style, hobbies, and so forth. A vintage piece? Done. Something unique and elegant? Done. Jewelry is one of the few gifts that is perfect for any sex, any age, and any budget, with a bonus of being an investment.
A piece of jewelry is a memorable gift - the person will always remember who gave it to them and what the occasion was. It will be as appreciated a decade from now as much as — or more than — today. After all, many family heirlooms are items of jewelry that have been passed down generations.
How can you ensure the gift you give will be the one the lucky recipient remembers long after the party is over? Easy - choose a piece of jewelry that will make an emotional connection as well as one that holds material value.
You can't go wrong with diamond solitaire earrings or a diamond solitaire necklace. These basics go with everything, whether the person likes to dress up or be more casual. In fact, pretty much anything with diamonds is a home run.

Is it a Birthday or an Anniversary? Use our quick reference lists for traditional gifts by month or year: Birthstone List/Anniversary List.

Look for a piece of jewelry that matches or coordinates with something else the person owns - for example, does she have a sapphire ring that she loves? Select a necklace or earrings to wear with it.

Purchase something symbolic as a memory of an event - the day you met, an event you attended, a place you visited, etc.

Find a piece representing a favorite activity. Perhaps he loves to sail - aquamarines are known as the 'sailor's stone.' Does she like to garden? A piece of jewelry that is floral would be perfect; or a lovely emerald for someone with a "green thumb."

Choose an item with a stone based on the attributes that match the recipient's personality - If she's a passionate go-getter, ruby is an excellent choice. Ancient people thought ruby's glowing red color was due to an inextinguishable inner fire…as a result, rubies are associated with courage and power. (See the properties of popular gemstones here.)

You can always go for a favorite color, or the color that matches their eyes.
With a little thought, this gift - and the one who brought it - will be remembered fondly forever.
Find Your Gem @ Assorted Gems Corporation